"Checking In" is the ninth episode of the first season of Banshee: Origins and, therefore, the ninth episode of the series overall. It first aired on January 17, 2013. The episode was written by Executive Producers David Schickler and Jonathan Tropper and directed by Executive Producer Greg Yaitanes.
THREE YEARS AGO
In New York City Job is sitting at a cafe and receives a call from Hood and he asks if he's out and he says he is still in. Job asks how long it has been and Hood says "twelve years and three months." Job then asks him why he called and Hood asks if he has heard from Ana and Job says no. He then asks where she is and Job tries to tell him to leave her alone and he says he needs to know she is okay. Job says she is fine and he needs to focus on himself and Hood says he doesn't believe Job and he retaliates that in order to hide her from Rabbit a certain amount of discretion is required. Hood still doesn't believe Job and brings up that Ana never came to see him and Job reminds him that she couldn't. Job asks if he needs anything and Hood says he will see him soon with Job saying "I'm sorry". Hood then hangs up and Ana is revealed to be sitting right across from Job and Job mentions how bad the timing is.
Starring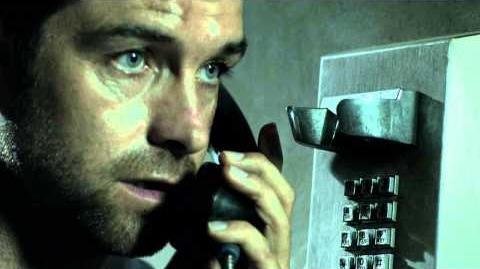 Ad blocker interference detected!
Wikia is a free-to-use site that makes money from advertising. We have a modified experience for viewers using ad blockers

Wikia is not accessible if you've made further modifications. Remove the custom ad blocker rule(s) and the page will load as expected.